Looking for Restaurants Near Leadenhall Street?
If you are looking for a hidden gem of a restaurant around near Leadenhall Street you must visit Bolton's. Bolton's Italian restaurant based in 13 Cullum Street, London. EC3M 7JJ is only a few minutes' walk from Leadenhall Street through Lime Street Passage.
Leadenhall Street links Cornhill and Bishopsgate in the west to St. Botolph Street and Aldgate in the east. It is situated in the City of London, which is the historic nucleus of modern London as well its financial district which makes Bolton's an ideal restaurant to catch up with clients, colleagues and friends.
Bolton's restaurant is especially popular for people who appreciates Italian gourmet food, wine and excellent service. We are a popular choice for businesses based near Leadenhall Street who regularly use Bolton's for corporate entertaining and private events.
Leadenhall Street is a modern retail hub with numerous shops, offices, bars, pubs and restaurants all nestled within this bustling commercial area in the heart of London. Bolton's restaurant, use the finest, freshest ingredients to delight our customers. Our reputation is built on Italian culinary excellence and we pride ourselves on the quality of our service and food.
Whether you are based near Leadenhall Street, entertaining clients, or visiting the area for the first time, come and enjoy some superb Italian cuisine. Bolton's Restaurant provides a relaxing and intimate environment and your table will be served by attentive staff who understand Italian cuisine and know their wines, so you can be confident in their guidance. In our opinion. We believe we are the best Italian restaurant near Leadenhall Street but why not see what you think for yourself and rate us on TripAdvisor.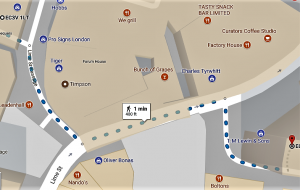 We have several comfortable, versatile spaces available for business lunches and dinners or private parties. The Venetian Room is available if you just want the privacy of your own dining area. It can accommodate up to 20 people. Guests may choose between our private dining room menu or our a la carte menu. Bolton's restaurant is open Monday to Friday from 11.30am-3.30pm and 6.00pm to 9.45pm, so is a perfect choice for lunch, dinner or drinks near Leadenhall Street.
To book a table at Bolton's near Leadenhall Street call us on 020 7929 1981 or visit our website for more details.